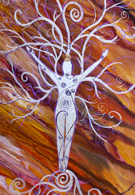 * All prices include HST.
Please see
Treatments
page for more detailed descriptions of the individual treatments in the following packages:
Infusion
This combination of hot stone massage & relaxation massage will melt away tension from body and mind, leaving you peaceful and grounded. It's the best of both worlds! And your treatment is enhanced with your choice of aromatherapy massage oil.
1.5 hrs $155



Trio of Bliss
Experience head to toe bliss with Embrace Wellness' signature package: Indian Champissage TM, Hot Stone Massage and Reflexology.
2 hrs $200



Balance
Restore your inner balance with this combination of Indian Champissage TM, Relaxation Massage and Reflexology.
2 hrs $185



Rejuvenate
Bring vitality to your whole being with
Reflexology, ArōmaTouch Massage and Reiki.
2 hrs $195
Indian Champissage TM & Relaxation Massage
If you spend a lot of time at a desk or experience migraines and tension headaches, then this is the treatment for you!
1 hr $95
1.5 hrs $140



Relaxation Massage & Reflexology
1.5 hrs $135
2 hrs $180
Indian Champissage TM & Reflexology
With a focus on the head, neck, shoulders and feet, this combination will leave you feeling light yet grounded. Includes foot soak and scrub.
1.5 hrs $140




Create Your Own Package
Combine any of these treatments to create a unique 1-2 hour package OR add on to an existing package to enhance your next relaxation experience:

Relaxation Massage, Reflexology or Reiki 30 min / $45 each
Indian Champissage TM 30 min / $50
Complete Chakra Balancing 20 min / $30
Healing Touch 15 min $15 / 30 min $30
Foot Soak/Scrub, Head, Hand or Foot Massage 15 minutes / $22 each

Gift Certificates Available.

Insurance: Covered by most insurance providers under Naturotherapy/Naturopathy (except for Blue Cross).

Good idea to check with your insurance provider.



Embrace Wellness / St. John's, NL / (709) 725-1816 / cherylfenk@gmail.com