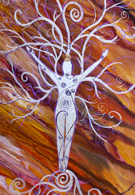 2019 Yoga with Cheryl Fenk

in the upstairs studio space at Embrace Wellness


Yin Yoga
Access the deeper layers of your body and mind with this meditative and calming yoga practice. Get quiet and still to listen and feel.

Classes will resume in September.

Candlelight Restorative Yoga
Nourish yourself with a calming restorative yoga practice.
By settling into fully supported, long-held relaxation poses you will begin to cultivate ease in your body, mind and heart. Our time together will include essential oils, poetry, meditation and deep rest.
Classes will resume in September.
How to Sign Up
and send along Interac e-Transfer
upon confirmation of registration to hold your spot.

*Space is limited to 6 people per session.

*Purchases are non-refundable,
unless your spot can be filled by another student.