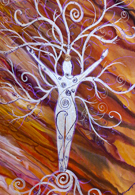 "One of the most powerful experiences I have ever had! I felt "Joyful" when I finished my session. It was a "natural high"! All my systems seemed to be in sync and I felt so alive. Even the day after, my body and mind are purring along in sync like never before. Thank you Cheryl for the gift of your wonderful healing hands and positive energy!" ~Mary Jo after having Rejuvenate! (Reflexology, Raindrop Massage & Reiki)

"Every yoga class with Cheryl is a uniquely inspiring journey. She is a thoughtful, gifted teacher who playfully encourages her students to be fully present and breathe mindfully into each moment, on and off the mat. Cheryl's yoga classes are like little mini-vacations; I always leave them feeling rejuvenated, grounded and complete." ~Corie H.



"I have long experienced neck and shoulder discomfort due to long hours at the computer, being hunched over my paintings, or walking with my backpack. I feel blessed, therefore, to get regular treatments with Cheryl, and although I initially resisted getting anything but one of her relaxation massages, I'm so glad I tried something new. The Champissage and reflexology combo was to live for! Next, I think I'll try the hot stone massage. Cheryl is a very competent, experienced, and intuitive practitioner, and so I know that whatever she suggests for my particular needs will no doubt benefit me." ~Dominique Hurley, artist



"Cheryl, you are a gifted yoga teacher and healer. I feel as though I am held in a protected, safe and sacred space in both your yoga classes and in your healing room. I highly recommend your yoga classes and your relaxation massages to all who are looking to relax deeply in their body." ~Janice S.



"Today I received one of the most powerful and healing massages I've experienced in a long time from registered Naturotherapist Cheryl Fenk of "Embrace Wellness". She is truly a master of her craft, and will undoubtedly lead myself and you toward a final goal of strength and well-being. Her approach is sincere and thorough. Coupled with her in depth knowledge of the human body, I feel that I'm in the right hands to receive the care that my body needs.There is no one, in my mind, who can top her." ~Janice Udell, visual artist